Description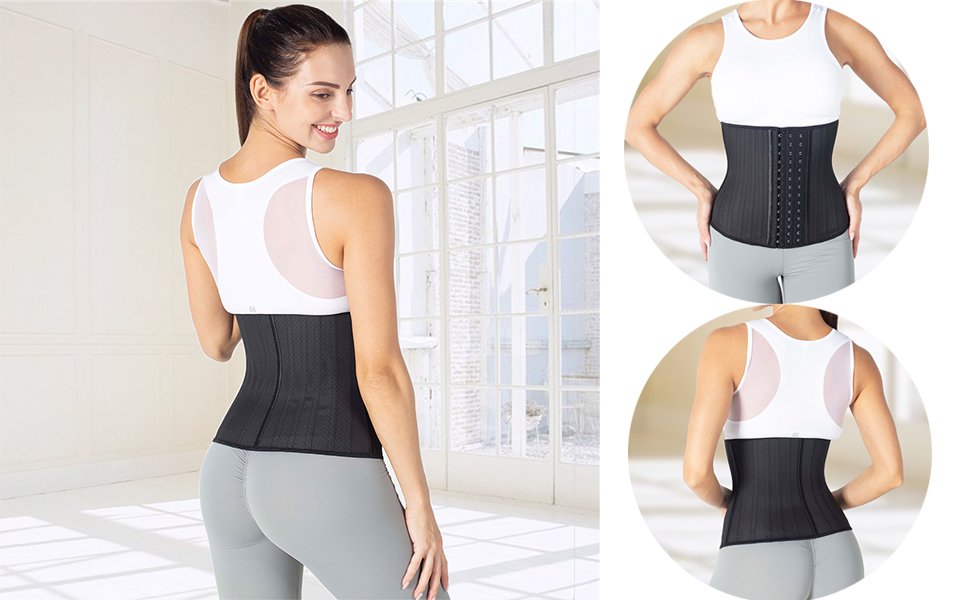 ABOUT ECOWALSON
ECOWALSON is the developer and manufacturer of new waist trainers that helps houglass body shaper, Postpartum recovery and sporting assistance.
In the past years, we has helped change many of people's lives with our waist trainer, recently, we produced the latest series, more reasonable support.
There is always a voice to guiding us forward, that is: make the product better, do not let our supporters down. That's what we say and that's what we do.
HOW TO CHOOSE THE RIGHT SIZE AND HEIGHT?
Step1. In order to make the size suits you well, we kindly recommend that you measure your size from the largest circumference of abdomen, then compare it with the size chart.
Step2. In order to make the waist trainer get a better body sculpting effect, when measuring, please kindly tighten the tape and your abdomen to the shape of you wear when wearing a waist trainer. This will usually be 2-3 inches less than when you measure in a fully relaxed posture.
Step3. We provide waist trainer corset in three heights of 11.2 ", 10.23 "and 9.45 ", and list the height data in each color name, you can determine the proper height by measuring the distance from the bottom of the breast to the hip.
Step4. The size chart is the size of the corset itself, excluding extender, extender plays an auxiliary role. Please kindly choose according to the size of the corset itself without extender.
***KINDLY NOTE***
A. For rare of people who are allergic to Latex or have sensitive physique, in order to prevent rashes and allergies, we recommend that they consult doctors for professional guidance and advice before use, we also recommend that they wear a thin T-shirt or thin camisole before wearing a waist trainer, then Wear the waist trainer on the surface of the T-shirt or camisole.
B. The product statement on this page is for reference only. This product is not intended to diagnose, treat, or cure any disease.
CORE ADVANTAGE
More Assured: 100% Natural Latex, non-irritating odor, skin and body friendly. 96% Cotton+4% Spandex inner fits skin better and stays dry at all times.
More Comfortable: Longer in the front and shorter in the back for maximum comfort while sitting down. The waist diameter is larger than the chest , tightening but not restricting freedom.
More Scientific: 9 – 25 fish scale memory flexi steel bones, better fit the body curve and provide three-dimensional surround support, keep you in the right position every day.
More Intimate: Hooks-and-eyes are reinforced with two horizontal and two vertical seams, and a soft textile material is used to avoid pressing the skin.
FEATURE & BENEFITS
Fat Burn: With a balanced diet and reasonable exercise, accelerate sweating and fat burning, let metabolize faster.
Local Sauna: Promote local blood circulation, increase the temperature of waist and abdomen.
Spine Correction: Keep the spine in the right position by improving overall posture.
Reduce Back Pain: Preventing and correcting hunchback, great decrease back pain.
Focus: By not forgiving bad posture, improve your efficiency, make you full of energy.
Postpartum Recovery: Tighten waist and abdomen muscles and make them more stronger.
Shape Breasts: Underbrust design to make breasts upright and charming.
Protecting: Protecting core muscle groups and reduce the risk of injury during sporting.
Hourglass Body Shaper: Get about 3-4 inch waist line reduction instantly.
WHY EXTENDER IS NEEDED?
Continue to Tighten
After being slim, is there a better choice than reselecting a new smaller size waist trainer? Yes, just remove this extender to realize the beautiful option of making full use of each item. Better choices come from smarter design.
Increase Service Life
Since the core of ECOWALSON waist trainer is 100% made by latex, to prevent over-tightening and material fatigue at the beginning, each item comes with an extender, this will give you a long-lasting good tightening effect.
Always Comfortable
This extender helps you easily adapt to various occasions. When sitting for a long time, with this extender, proper loosening can be more comfortable. When working out, proper tightening can help to get better exercise results.
Memory Steel Bones
Memory steel bones, which is flexible and durable, can bend easily and recover quickly to origin.
Double-stitched Edges
Double-row sutures on the edges and on both sides of the steel bone to prevent curling, tearing and shifting.
Prevents Pressing Skin
Keep a reasonable distance between the steel bone and the edge to avoid the steel bone pressing the skin.