Description

Stunning Design
Each elegant leaf and striking 3D butterfly pendant is connected with a pure metal chain, finished with a glass bead filled with genuine rhinestones and real flowers in a range of natural colours.
Lightweight, Durable and Rust Free
Every bookmark is made from pure, fade-proof copper; including the Leaves, Butterflies and Chains. The metal stamping process achieves the intricate detailing found in the leaves and 3D butterflies.
The high quality copper is electroplated in gold and silver to increase its resistance to wear, protect against corrosion, add thickness, preserve the colour and prevent fading.
Weighing just over 40g each, these elegant bookmarks are lightweight but highly durable due to the electroplating process.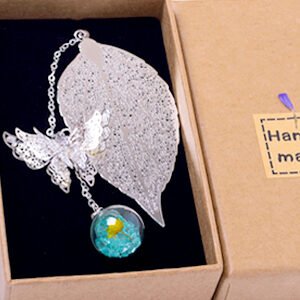 Specifications:
Weight: 41 g

Material: Electroplated Copper (Gold/Silver)

Chain Length: 10 cm

Leaf Dimensions: 7.6 x 3.8 cm

3D Butterfly Dimensions: 3.5 x 2.8 cm

Glass Ball Pendant: 1.6 cm diameter

Gift Box Dimensions: 10.8 x 6.8 x 3 cm
Please note: Due to handmade nature weight and sizes may vary slightly.
Protect Your Books from Wear and Tear

Keep your beloved books readable for longer without folding and damaging the page to mark your place.

Your books will look as good as new for years to come!

Gift the Readers in Your Life

Our handmade butterfly bookmarks are beautifully packaged inside a kraft paper box made from recycled materials, placed on a layer of sponge padding for optimal protection. The box is finished with a dried forget-me-not flower to make the perfect gift.

Every Book Deserves to Look its Best!

An Ideal Gift for:

Friends, Sisters, Mothers, Kids, Teachers, Students, and any Book Lover…

Or treat yourself and embellish your favourite books!